Ingredients
Sourced from the very best.
Our proprietary formula is the very Best Hair, Skin and Nails supplement you can buy anywhere. It's made in the USA with the highest quality of ingredients in a state of the art facility that manufactures according to strict FDA guidelines and good manufacturing principles ("cGMP" current good manufacturing practices). Halo Beauty is made with a lot of love (and none of the bad stuff) and we believe that you're gonna love it!
×
Vitamin C
Vitamin C is one of the most effective nutrients to help grow and strengthen hair. Vitamin C also helps to build collagen, which is not only important for hair growth, but maintaining hair strength. Within the skin, Vitamin C helps serve to protect us from the damage of sun exposure and normal aging.
×
Vitamin D3
Our bodies produce Vitamin D as cholesterol and converts it into Vitamin D as sunshine is absorbed by the skin. With age (and avoiding the sun), the ability of the body to create healthy levels of Vitamin D declines, which is reflected in the deficiency found in a large part of the population. It is one of the ingredients to "looking great" and helps give the skin a healthy glow. Our Vitamin D3 is derived from Lichen that produces a pure and clean natural source of vegan Vitamin D3 that's free from contaminants.
×
B1, B2, & B6 Vitamins
B vitamins are essential for great hair and skin and help with energy metabolism. B vitamins are attributed to have some of the most obvious effects involved in promoting overall hair health. Together taken with Biotin, the B complex helps to make the skin glow, and fights free radicals which are one of the main causes of aging and age related conditions. Vitamin B1, also known as Thiamine, is excellent for skin and is an anchor vitamin for the other B vitamins to support synergistic results. Vitamin B2, also known as Riboflavin, is an activator for vitamin B6 which contributes melanin to the hair and also known to help prevent hair loss. Also as an antioxidant, this vitamin scavenges for free radicals and plays an important role in the formation and maintenance of collagen which helps to reduce the appearance of fine lines and wrinkles. Vitamin B6, plays an important role in a variety of enzymatic reactions in the body. It also has a role in improving blood flow to hair follicles supporting healthy hair growth. Researchers found Vitamin B6 to inhibit the formation of DHT by binding to receptors responsible for the formation of DHT. The result of the action is thought by researchers to support both the prevention of hair loss and the improvement of hair condition. Similarly, Vitamin B6 has been studied in the aid of natural hair color restoration by increasing the formation of melanin, the pigment that gives hair it's color.
×
Biotin
Biotin is a key supplement for growing and maintaining hair, skin and nails. This vitamin supports keratin production that leads to stronger hair, skin and nails. It has been used to address common unwanted conditions such as problem dandruff, eczema, brittle nails, and acne. As a main component of human hair, skin and nails, Biotin has been known to be called the "go-to vitamin for beauty". A transporter in the skin cells layers that produce keratin is highly specific for utilizing biotin and is particularly effective when combined with B-complexes and Alpha Lipoic Acid "ALA".
×
Zinc
Zinc is a key mineral vital for hair growth and to help support the prevention of hair loss. Zinc is also great for skin as it helps to regulate the skin's own immune system, helping to prevent acne, but also acts at the cellular level within the hair follicles. In this regard it is touted as a potent inhibitor of hair follicle regression and accelerates hair follicle recovery.
×
Copper
Copper is a mineral used in the production and maintenance of collagen. Copper also helps prevent the onset of premature graying of the hair as it is required in the production of melanin. The greatest concentration of copper in our bodies is also found in our hair.
×
Manganese
Manganese works in conjunction with Vitamin C and Biotin to help activate enzymes that are important for hair and nails. Too little Manganese can result in brittle nails and premature graying.
×
Catalase
Catalase is an enzyme found in mostly all oxygen breathing plants and animals. An anti-gray enzyme, it helps break down hydrogen peroxide produced by our bodies into harmless water and oxygen. It is thought that the anti-gray function of catalase may be the result of hydrogen peroxide interference with the production of melanin, a pigment that gives hair its color
×
Rosehip
Rosehip powder extract studies show improvement of aging-induced skin conditions. Rosehip is rich in Vitamin C and other nutrients such as beta-carotene, lutein, and zeaxanthin. These vitamins help support the skin (and even the eyes). For the skin, it has been known to help correct the dark circles under the eyes and aid in maintaining the hydration barrier of the skin while exerting protective effects from light induced skin damage.
×
Methylsulfonylmethane (MSM)
MSM is an organic sulfur found in our bodies and sometimes described as a "beauty mineral" or "nature's collagen supplement". It works with Vitamin C as a great collaborator to build new healthy tissues and to normalize collagen formation while improving overall skin health. MSM is needed by the body to form collagen and keratin. This helps keep the skin appearing youthful while adding luster to the hair. MSM is also known to contribute to exceptional strength and thickness of the hair and nails, which can be noticed in just a couple weeks of consistent use.
×
Saw Palmetto
This powerful berry is a natural treatment for use with acne and hair loss. While Saw Palmetto may help men and women in slightly different ways, one of the main reasons it's beneficial for both sexes is due to the way it balances hormones. Saw Palmetto is a DHT blocker, which can cause balding and thinning of the hair in men, in women DHT can cause skin to become too oily, causing bacteria to flourish and eventually lead to increase in acne. Reducing DHT levels might help hair growth and assist in a clearer complexion.
×
Emblica Officianalis (Amla)
Amla, also known as Indian Gooseberry, it is honored for its anti-aging capabilities and rich spectrum of phytonutrients. The antioxidant properties of Amla, provides a powerful defense against oxidation of skin cells. It has been traditionally used for improvement in complexion, moisturizing the skin, cleansing the tissues of toxins, and supports immunity of the skin against acne.
×
Grape Seed Extract
Grape seed extract contains several plant compounds, mainly powerful antioxidants. According to the Food Research Center in Guelph, Canada, the antioxidants in grape seed extract offer 20 times more antioxidant power than vitamin E. The use of Grape seed extract is to protect the skin from sun exposure and improve the overall appearance of the skin.
×
Pumpkin Seed Powder
Pumpkin Seed powder is a rich source of antioxidant vitamin A and E, K, zinc, selenium and Omega-3 fatty acids. It has been shown to stimulate hair growth, promote a healthy scalp and prevent the onset of premature hair loss. Pumpkin Seed powder also helps maintain sebum production, which is the oil your skin needs in the right amount to stay hydrated.
×
Ceramide-Rx™
Our proprietary and clinically proven Ceramide-Rx™ is a phytoceramide extracted from rice. Phytoceramides are lipids that keep your skin hydrated and plump. Ceramide-Rx™ has been proven in human clinical double blind trials to restore and rebuild the outer skin layer, increasing the skins ability to retain moisture while improving skin smoothness in as little as 3 weeks. It also results in an improved barrier for toxins and other harmful substances from entering the body. Ceramide-Rx™ may reduce the appearance of large pores and fine lines. The bottom line: Ceramide-Rx™ can do what no lotion or cream can. Clinical human studies results demonstrate Ceramide-Rx™:
INCREASES Skin Hydration*
REDUCES Itchiness & Redness*
MINIMIZES Small Lines & Wrinkles*
PROMOTES Skin Smoothness*
FIGHTS Signs of Aging Visibly and from Within*
×
Horsetail
Horsetail exerts both anti-inflammatory and anti-oxidant properties. It is comprised of silica which is used for improving the strength of hair strands and thereby improving the structural integrity of the hair, while adding luster or shine and encouraging new growth. It works to help your hair to grow faster, stronger and provide it protection against several hair problems. Apart from hair growth, horsetail also reduces hair fall and breakage by strengthening the cuticle of the hair.
×
Astaxanthin
Astaxanthin is one of the most powerful antioxidants available and is derived from algae. It is a powerhouse to help support the reduction of fine lines and increased skin moisture and improved skin tone and elasticity. It has been shown to help smooth the skin surface, diminish freckles, and reduce under-eye puffiness with use. Astaxanthin is beginning to emerge as one of the game changers in the world of high-performance natural skincare. Astaxanthin has been shown in clinical studies to increase skin moisture, moisture retention, elasticity, as well as promote skin smoothness, decreasing fine lines and wrinkles.
×
L-Glutathione
Glutathione is an important antioxidant used by every cell and tissue in the human body. What is unique about Glutathione is it is an intracellular antioxidant, which means it acts inside the cells. Research supports the effectiveness of certain nutrients in not only growing healthy hair, but actually reducing hair loss. The key, however, is always to ensure a constant, ongoing supply.
×
Alpha Lipoic Acid (ALA)
Often referred to as the "universal anti-oxidant", ALA is a super powerful antioxidant. It aid in the control oil production of the skin, helping to regulating the oil glands while providing good color and tone to the skin. ALA has been shown to reduce swelling and puffiness in the face. Its anti-inflammatory effects reduce redness and blotchiness, resulting in an evening out of skin tone, often making foundation less necessary.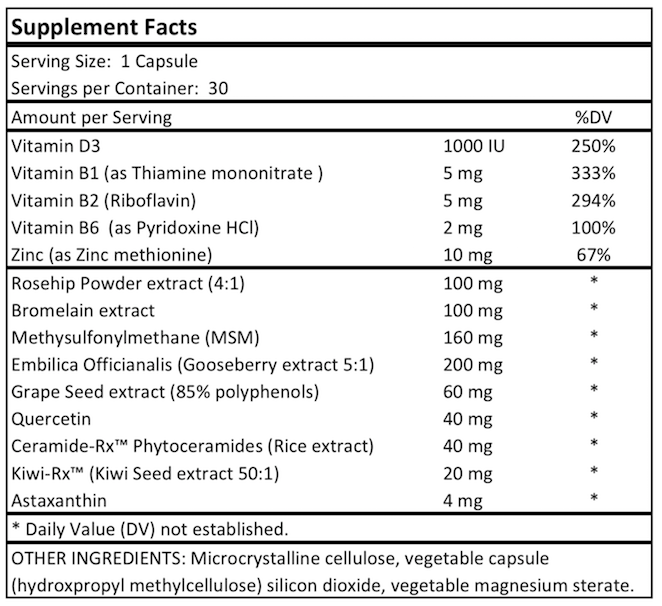 THE BEST FORMULA
Supports a Natural Moisture Barrier for Firm, Hydrated, and Rejuvenated Skin*
Minimizes Fine Lines and Wrinkles*
Supports Collagen and Keratin Production*
Inhibits Bacteria, Balances pH, and Renews Skin*
ORDER NOW